CodFuel.com customers have saved over
$59,639,697.46
Use CODFUEL.com from Montauk to Manhattan and More
Feel free to shop for local oil prices.
Shop with confidence that you will NOT be spammed later. We will NOT ask for your e-mail address to shop oil prices.
Although we provide top quality heating fuel at discounted prices, and we know its important to get a good oil price, but its also wise to make your buying decision on other factors aside from price alone. The copy-cat websites try to win you over by offering a too good to be true price because they cannot match the services offered by Codfuel.com. Most of these advertised prices are for large quantities of oil that many homeowners do not purchase in a single oil delivery.
Stay Safe, Make Sure YOU see the CODFUEL.com logo before your order your next fuel oil delivery. In reality, even if they could save a penny or two per gallon, opening your privacy and identity over the Internet on a Website without the proper security to save $2 or $3 is hardly worth the risk.
Your credit card is safe with us. Unlike other copy cat websites who try to appear like Codfuel.com, All transactions on Codfuel.com are processed on a secure, PCI compliant server and your credit card numbers are NEVER passed along to ANYONE else, including the Heating Oil company making your delivery. PROTECT YOURSELF WHEN ORDERING FUEL OIL ONLINE (Cash or Credit) and BEWARE OF SCAMMY OIL WEBSITES - STAY SAFE WITH CODFUEL.com
Established in 2001, Long Island, New York. Codfuel.com offers the most convenient way to find your Home Heating Oil prices, and its safest way to order #2 Home Heating Oil or Biodiesel. Codfuel.com is a FREE SERVICE - We Deliver to Residential and Commercial Customers.
Shop…Order…Schedule…Done. With Codfuel.com, there are No contracts, No gimmicks and No Fees. Order heating oil ONLY when you need it. Order as much or as little as you want. Choose your own oil company, select your own oil price. Shop, Order, Schedule and Pay online. Never wait home for another oil delivery. Order Home Heating Oil 24 hours a day. Be Safe, Keep it Simple. Choose CODFUEL.com and become a member today.
With Codfuel.com you can purchase heating oil by cash, credit or debit card. Current Oil prices are always displayed and same day oil delivery is available in most areas. Shop with confidence, our instant, online ordering system is safe and secure. Thank you for using Codfuel.com! View current oil prices in your area now!
Why is CODFUEL.com the SAFEST way to order fuel oil?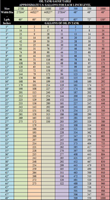 FUEL OIL TANK MEASURING CHART - HOW can I stick my tank to see how much oil I have?
See our A+ Better Business Bureau Rating (BBB)
Why do oil prices rise and fall?
Reach out
Find us at the office
Exel- Frazzitta street no. 61, 44925 Kingston, Norfolk Island
Give us a ring
Jovanny Boeding
+23 274 947 142
Mon - Fri, 10:00-21:00